Allied Health Professionals
In addition to the Chemong Family Health Organization and the Peterborough Family Health Team Clinic, the MCHC houses one professional, health-related business. Income received from this business contributes to the operation of the MCHC and plays a vital role in our future.
Lakefield Physiotherapy & Foot Health Clinic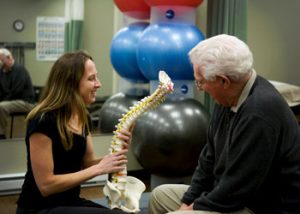 The Lakefield Physiotherapy & Foot Health Clinic is proud to be a part of the team of professionals at Morton Community Healthcare Centre. The clinic utilizes a team approach to provide the following comprehensive list of services:
• Physiotherapy,
• Chiropody / Podiatry,
• Custom Orthotics,
• Massage Therapy,
• Occupational Therapy,
• Men's Pelvic Health Program, and
• A Women's Health Program. "SHE" our Women's Health Program is an innovative and exciting approach for treating problems associated with pregnancy, urinary incontinence and osteoporosis. Our program, provided by specially trained Physiotherapists, can help minimize or even relieve symptoms and improve function for those experiencing these conditions.
Contact the Morton Community Healthcare Centre
Telephone 705-652-6999
Fax 705-652-6999
Email lakefieldphysioandfoot@bellnet.ca
Hours:
Mon 8:30 am – 5:00pm
Tues 8:30am – 3:00pm
Wed 8:30am – 5:00pm
Thu 9:00am – 6:00pm
Fri 9:00am – 3:00pm
Or visit us at lifemark.ca/Lakefield for more information about our experienced
practitioners and comprehensive services.
MCHC Corporation
Originally known as the Lakefield Community Medical Support Corporation (2003), this group is now the MCHC Board of Directors.
The Corporation today consists of 10 Directors all of whom are volunteers. They share a passion for the promotion of local healthcare within our community and are proud of the Healthcare Centre, its facility and its staff.
Ownership and management of Morton Community Healthcare Centre is a huge responsibility and requires a tremendous commitment from each of the Corporation members.
Directors serve on the following committees: Finance, Property, Communications and Governance. From time to time, members also work on ad hoc groups for particular projects or areas of business. Two directors share the tracking of pledges and on-going financial donations. The Board of Directors meets monthly with subcommittees meeting, as necessary, to fulfill their responsibilities.
When Directors retire from the Board, the Governance Committee recommends replacements from within the community. Particular attention is paid to the skills required to carry out the business of running this amazing facility. New Directors generally begin their terms at the Annual General Meeting in May.
Serving on the MCHC Corporation is a privilege and makes a much- appreciated contribution to the community.